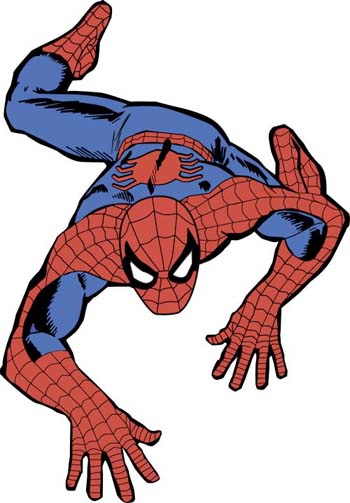 The Religious Affiliation of


Spider-Man


Peter Parker

Religion: Protestant

Name: Spider-Man
Alter Ego: Peter Parker
Other Names: Spiderman; Peter Benjamin Parker; Dusk; Prodigy; Hornet; Ricochet; Ben Reilly; Ben Parker; Peter Morgan; Spider-Venom; Man-Spider; Spider; Peter Parquagh; The Amazing Spider-Man; The Spectacular Spider-Man
Classification:

hero

scientist
Publisher(s):

First Appearance: Amazing Fantasy (vol. 1) #15 (Aug. 1962): "Spider-Man"
Creators: Stan Lee, Steve Ditko
Super? (Has Super Powers/Special Abilities/Technology): Yes
Number of Appearances: 10,664
Comic Book Appearances: 9,979
TV, Film Appearances: 669
Video Game, Computer Game Appearances: 16
Teams/Affiliations: Secret Defenders; Spider-Man and His Amazing Friends; The Avengers; Weapon X (Exiles)
Enemy of: Norman Osborn, Sandman, Venom, Doctor Octopus
Ally: Aunty May
Ally: Mary Jane Watson
Ally: Flash Thompson
Occupation: laboratory assistant, performer, photographer, scientist, student, teacher
Worked for: The Daily Bugle
Location: New York City, New York, USA
Birth Place: Forest Hills, Queens, New York City, New York, USA
Race: white
Gender: male
Amazing Fantasy #15 (published in 1962) features the first-appearance of Spider-Man. As such, this is one of the most influential comic books ever published. The character of Spider-Man broke the mold among super-hero characters in many ways, and subsequently became very popular as well as much-imitated.
One of the innovations of the Spider-Man character was how grounded he was in contemporary reality. Instead of having access to fabulous wealth and technological or mythological resources (as did characters such as the Fantastic Four, Iron Man, Ant-Man and Thor), Peter Parker was an everyman whose humble economic circumstances and social standing was less removed from the average American comic book reader. Peter Parker had very real, even mundane problems. Yet, far from making the character "boring," it made his stories even more interesting.
Despite being relatively more grounded in reality than contemporary comic book characters, one bit of "unreality" in Spider-Man's early stories was the taboo - still very much in effect at the time of his creation - against overt portrayal of overtly religious themes and characters in popular media. Rather than overtly identifying the specific church or faith or belief system to which Peter Parker and his family belonged, Spider-Man's early stories only portrayed the character's values and ethics. Readers could decide for themselves what Peter Parker's specific religious affiliation and beliefs might be based on how he acted, but there was nothing in the character to suggest non-normative religious beliefs or affiliation. He was clearly raised with a strong value system by a very loving, attentive, highly ethical aunt and uncle. Beyond this, little was revealed in early Spider-Man stories.
It was only later that Peter Parker's upbringing would become identifiable as Christian, and eventually be classifiable as a sort of generic Protestantism.
At the time of Spider-Man's creation, most comic book super-heroes were created based on a generic White Anglo-Saxon Protestant character type. Peter Parker's rather humble, working-class background differentiated him from the de facto Episcopalian character template prevalent among super-heroes from the 1940s through the 1960s.
Because Spider-Man's co-creator Stan Lee was Jewish, some commentators have wondered if Spider-Man himself was Jewish. It is reasonable to assume that Stan Lee regarded Peter Parker in many ways as an alter ego for himself and instilled the character with many of his own character traits and beliefs. But Stan Lee was too talented a writer, especially gifted in the area of character creation, character portrayal, and dialogue, to make all of his characters direct analogs of himself, whether in religious affiliation or in any other arena. Stan Lee did regard some of his characters as Jewish, and he wrote them differently than non-Jewish characters: Benjamin J. Grimm ("the Thing" of the Fantastic Four) and Izzy Cohen of Sgt. Nick Fury "Easy Company" are among Lee's better-known Jewish characters. Many of the characters Stan Lee created during this time - such as the Norse/Teutonic pagan deity Thor and the African religious leader Black Panther - are clearly non-Jewish. There is no rational basis for suggesting that all of Stan Lee's creations were Jewish simply because he was.
The "Spider-Man is Jewish because Stan Lee was Jewish" argument has been repeated by many (usually more casual) readers, but doesn't hold up. Stan Lee himself wrote Spider-Man stories in which religious events (such as weddings, funerals) for Peter Parker and his immediate family were clearly held according to Christian (not Jewish) custom and in Christian settings.
We have heard of second-hand accounts of Stan Lee once saying he regarded Peter Parker as Jewish. Whether or not Stan Lee actually said this is largely irrelevant. This intention was never translated into published comics, while Peter Parker's Protestant Christian religious affiliation has been overtly portrayed in comics as well as in film.
We have no argument with the notion that Peter Parker is a "Jewish character", as long as this description is understood to mean "a character created by a Jewish writer."
Spider-Man could also be identified as a "Jewish character" in the sense that his values reflect core Jewish values. Of course, by this measure, Spider-Man can also be identified as a "Catholic character", a "Buddhist character", a "Mormon/Latter-day Saint character", a "Humanist character", a "Methodist character", etc. As Marvel's flagship character and a noble soul since his inception, it is not surprising that Spider-Man's core values have nearly always reflected values cherished by nearly all people of good will and character, regardless of specific religious affiliation or ideology.
Excerpts
BELOW: Aunt May thought Mac Gargan (the Scorpion) was a Jehovah's Witness: Spider-Man consulted with powerful telepath Rachel Summers ("Marvel Girl" of the X-Men) to help him find his Aunt May, who was abducted by unknown villain. Touching a ring that belonged to Aunt May, Rachel was able to receive psychic impressions of the abduction. Rachel could not identify who the assailant was. But she did reveal that when Aunt May answered the door, she thought the person at the door was a Jehovah's Witness coming to preach about the Bible. It is worth noting that Aunt May left the chain on the door (meaning that she had not planned to let the Jehovah's Witness in), but she opened the door, no doubt intending to politely decline his invitation to visit with her.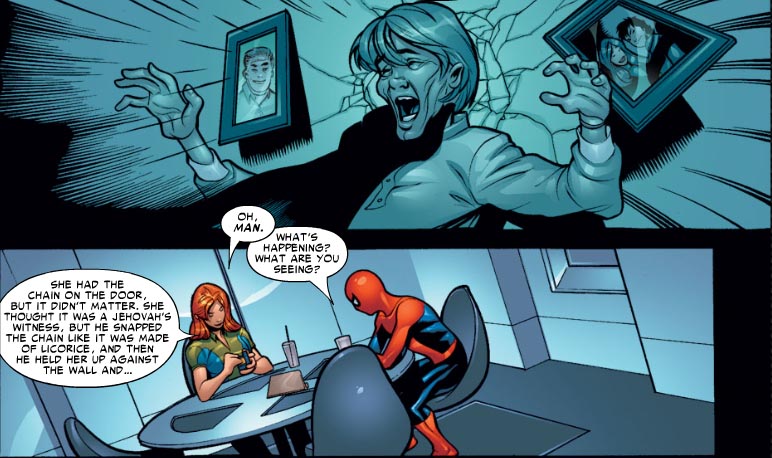 Source: Marvel Knights Spider-Man #6 (Nov. 2004): "Venomous: Part Two", pg. 17, panels 2-3. Written by Mark Millar. Art by Rachel Dodson, Terry Dodson. See also: religion identified by name; missionary work; Jehovah's Witnesses; Spider-Man (Peter Parker); Aunt May; The Scorpion (Mac Gargan); Marvel Girl (Rachel Grey); Jehovah's Witnesses
BELOW: Ethan Edwards asks Peter Parker if he has prayed today: New star reporter Ethan Edwards is a direct Superman parody who J. Jonah Jameson has partnered with Peter Parker (a.k.a. Spider-Man). Edwards is a deeply, sincerely religious Protestant Christian. Seeing that Peter Parker looks a little down, he asks his co-worker if he has prayed. Ethan adds, "I don't know if you're religious, or what your faith is, but you'd be surprised what a little faith would do."
Source: Marvel Knights Spider-Man #14 (July 2005): "Wild Blue Yonder, Part Two", pg. 10, panels 4-6. Written by Reginald Hudlin. Art by Billy Tan, Jon Sibal. See also: faith; prayer; religious (the word "religious"); Protestant; Spider-Man (Peter Parker); Ethan Edwards
BELOW: Spider-Man prays with Superman: Well, almost. The new star reporter at the Daily Bugle is a direct Superman parody. Deeply religious, he pulls his co-worker Peter Parker (a.k.a. Spider-Man) into a closet in order to pray to the Lord. Ethan is secretly arranging an opportunity to use his healing powers on Peter, but his deep religiosity and his sentiments about prayer are sincere, as seen in the following issues. Ethan tells Peter, "Open your heard to the Lord." Ethan also advises, "Don't underestimate the power of prayer, Peter." A fascinating reveal comes at the end of Marvel Knights Spider-Man #18: Reed Richards researched Ethan Edwards extensively and found that the ability to heal others was NOT among the powers he had been imbued with by his father. The last page of issue #18 reveals that Ethan's power to heal really did come from prayer.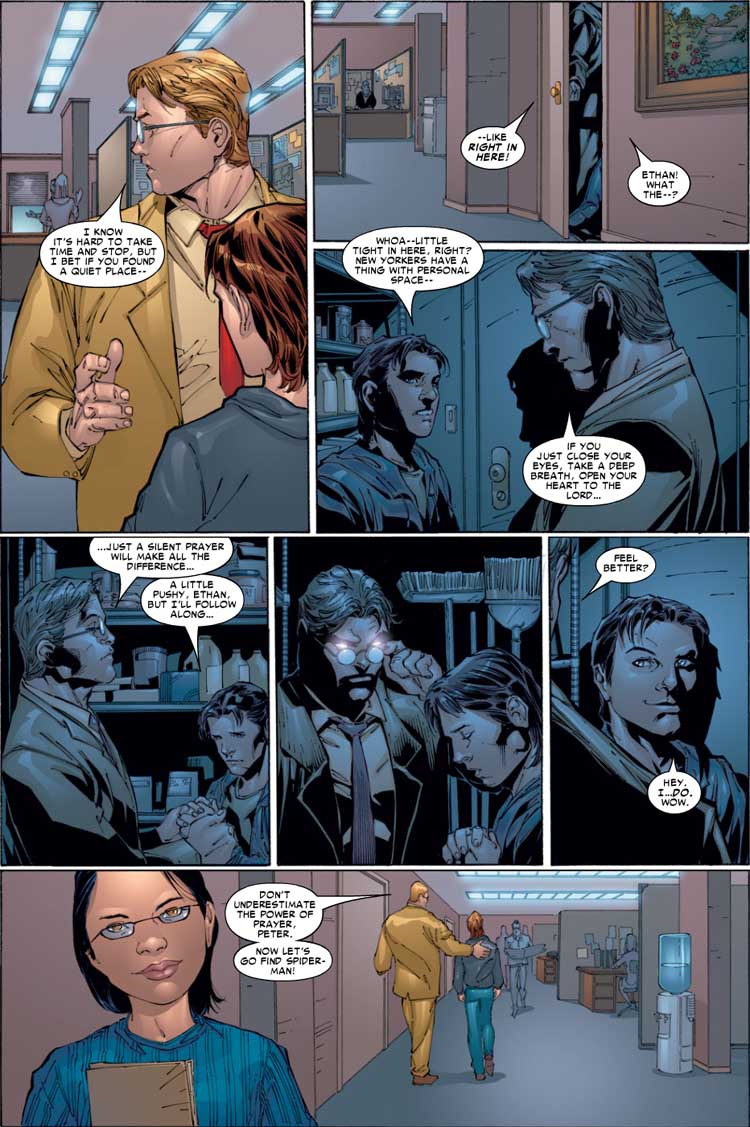 Source: Marvel Knights Spider-Man #14 (July 2005): "Wild Blue Yonder, Part Two", pg. 11, panels 1-7. Written by Reginald Hudlin. Art by Billy Tan, Jon Sibal. See also: God; prayer; Protestant; Spider-Man (Peter Parker); Ethan Edwards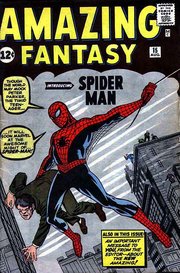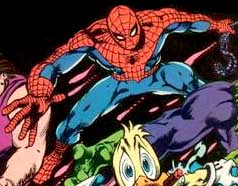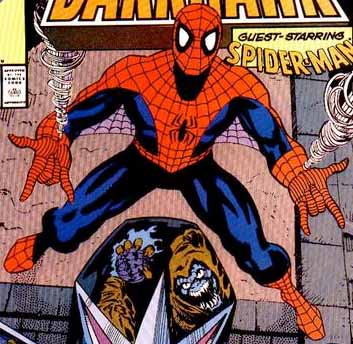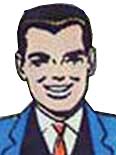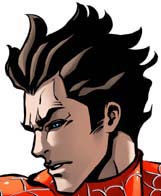 Discussion

Suggested links for further research about this character and the character's religious affiliation:
- http://www.adherents.com/lit/comics/SpiderMan.html
- http://www.comicvine.com/spider-man/29-1443/
- http://www.imdb.com/character/ch0001354/
- http://www.marvunapp.com/master/spiaspid.htm
- https://www.comics.org/issue/17099/
- http://comicbookdb.com/issue.php?ID=210
- http://www.comicboards.com/marvelguide/s4.html
- http://www.comicboards.com/marvelguide/MC2Handbook/pmc2.html
- http://www.comicboards.com/marvelguide/ultimateuniverse.html
- http://www.marvunapp.com/master/parapark.htm
- http://www.marvunapp.com/master/manamanj.htm
- http://www.marvunapp.com/master/parlpaz.htm
- http://www.marvunapp.com/master/proaprof.htm
- http://www.marvunapp.com/master/shbshh.htm