Religion: Methodist / Kryptonian religion

Name: Superman
Alter Ego: Clark Kent
Other Names: Kal-El; Superboy; Clark Joseph Kent; Clark Jerome Kent
Classification:

hero
Publisher(s):

First Appearance: Action Comics (vol. 1) #1 (June 1938): "Superman, Champion of the Oppressed!"
Creators: Jerry Siegel, Joe Shuster
Number of Appearances: 13,409
Comic Book Appearances: 10,527
TV, Film Appearances: 808
Video Game, Computer Game Appearances: 6
Radio/Audio Shows: 2,068
Teams/Affiliations: The Justice League; Super Friends
Foe of: Lex Luthor, Brainiac
Allies: Lois Lane, Jimmy Olsen, Perry White
Family/Relatives: Jonathan Kent (father), Martha Kent (mother)
Occupation: columnist, editor, farmer, reporter, TV host
Worked for: The Daily Planet
Location: Washington, D.C., USA; Metropolis, USA; Smallville, Kansas, USA
Birth Place: Krypton
Race: Kryptonian
Race: white
Gender: male
BELOW: Superman's origin is reminiscent of the Biblical story of Moses being set in a basket on a river in order to save his life. Being sent by his father to Earth to "benefit mankind" is reminiscent of the Biblical account of Jesus.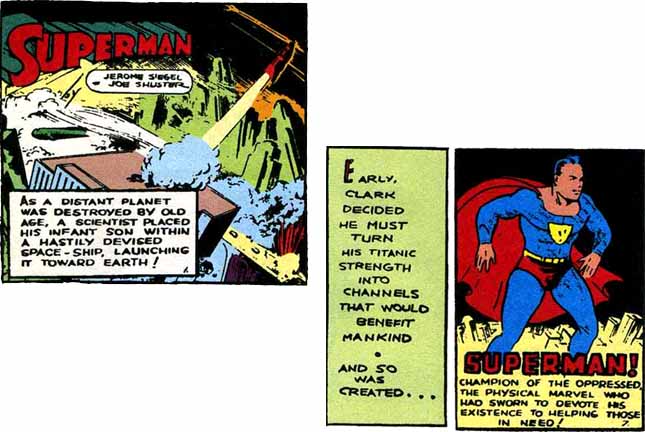 Source: Action Comics (vol. 1) #1 (June 1938): untitled 1-page Superman origin story, pg. 1, panel 1, 7. Written by Jerry Siegel. Art by Joe Shuster. See also: Old Testament parallels; Christ parallels; Jewish; Christian (generic); Superman (Clark Kent)
BELOW: Champion of the oppressed: "Early, Clark decided he must turn his titanic strength into channels that would benefit mankind":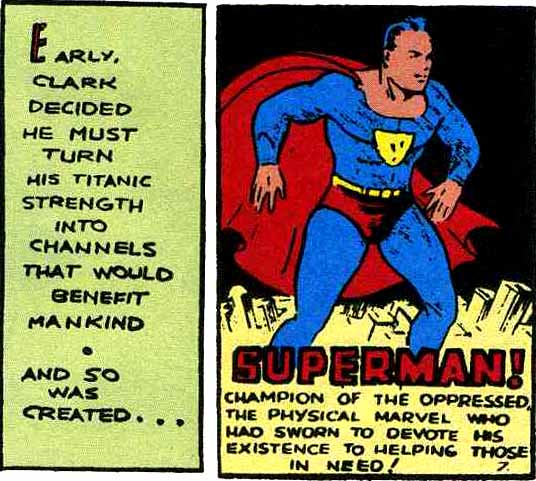 Source: Action Comics (vol. 1) #1 (June 1938): untitled 1-page Superman origin story, pg. 1, panel 7. Written by Jerry Siegel. Art by Joe Shuster. See also: benefit mankind; Superman (Clark Kent)